Watching Clouds or The Longing For Belonging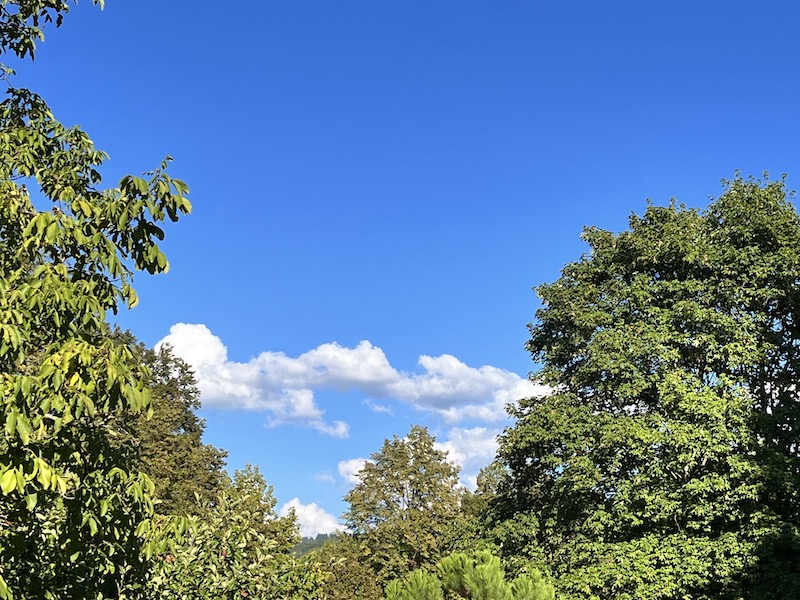 I was in Germany a few weeks ago. More precisely: in Müllheim, a village at the foothills of the Black Forest where I grew up and went to school from first grade to high school graduation.
I felt cobblestones under my shoes, listened to church bells ring every fifteen minutes, and smelled crisp fall air between vineyards heavy with grapes and sunflower fields dried out by the hotter-than-normal summer season. I even put my towel in the grass next to the public pool, where I used to watch the boy I had a crush on hanging out with his friends under a chestnut tree and, on my way back, passed by the alley at the water fountain where we kissed for the first time.
Everything was so familiar and foreign at the same time. The town is picturesque. Tourism promoters rightfully call the landscape around it "German Tuscany" because of its hills and the Mediterranean climate. I'm not a stranger in this town, but I do not belong. I left almost forty years ago, lived in Munich, Berlin, Washington DC, and since 2003, my hometown is LA.
By now, I explored many parts of Los Angeles and the unexpected bounty of nature all around it. I fell in love with the wild ocean, the mountains, the desert, the mix of people, cultures, languages, food, and the treasure trove of stories I find everywhere. I got married here. We bought a house, and during Covid got a dog. I'm not a stranger in this city, I feel like I belong among all those other legal and illegal aliens more than I do in my first hometown. Do I feel like I belong completely? Not really.
Talking about the longing for belonging, about what is Heimat and what Home, is an omnipresent discourse between my friends and me. Most of them are also immigrants. We share stories of culture clashes - why is everyone always so damn busy and only has a week's vacation? The language - oh, how I miss some German words like Sehnsucht, Lebensfreude, Ohrwurm, even Erbsenzähler, and Dreikäsehoch. The references to movies, TV shows, and music - nobody here is talking about Sissi or Winnetou, Am Laufenden Band, Hitparade, Die Fantastischen Vier, or Herbert Grönemeyer.
I was thinking about all that back in Müllheim looking up at the sky. I saw the clouds. I watched them pass. I went back inside and wrote this poem:
Watching clouds
Today
I make a pact with myself
For now
Follow their lead
Flow with
Constant transition
Let go
Of your longing
For belonging
please send your comments to This email address is being protected from spambots. You need JavaScript enabled to view it.