My Novel - Beginnings, Drafts, Agents, Query-Letters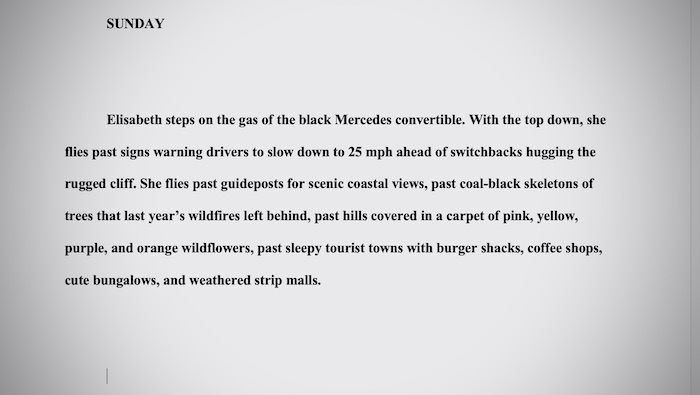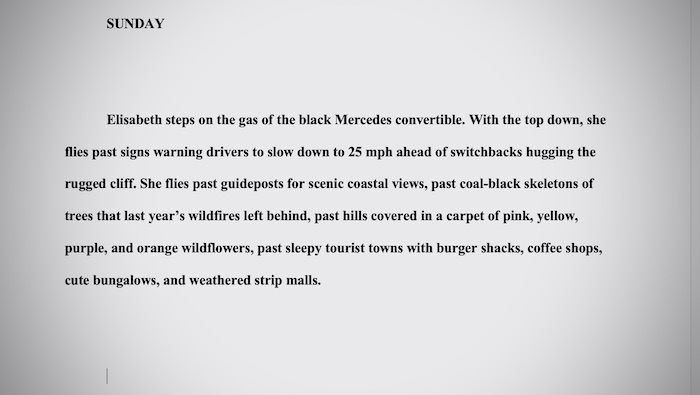 This is the beginning of the 6th draft of my novel. The Cliffs is my working title.
"What is your novel's story in one sentence?" a friend asked me yesterday. She says I need to know that sentence and be able to say it out loud at a moment's notice in case I meet a literary agent, an editor, or a publisher. One sentence? For a book of roughly 70 000 words? Hm.
"Oh yes! And for your query letter, you need a summary. 400 words. Max." Or did she say, I need a short query letter plus a summary of no more than 400 words? Things become blurry when I think about marketing my book. But also, they get exciting. I am writing a novel! How about that?! And I will get it published! Promised!
I am not in a hurry.
Here is a summary I wrote when I submitted the 5th draft for a competition earlier this year:
It is a sunny spring day in 2019 after a season of devastating wildfires. 50-year-old Elisabeth Wolf speeds up the California coast in her new Mercedes convertible. She is disheveled wearing only lace underwear and an oversized T-shirt with a bear print on the front.
Just a few hours ago, Elisabeth left her fiancé standing under a flower-covered arch on the beach of Malibu. At what was supposed to be her second wedding, looking into her mother's eyes before stepping onto the sand, she suddenly realized the mistake she is about to make. She ran and spontaneously steers the car, a gift from her fiancé as compensation for his latest infidelity, to a retreat in Big Sur—The Cliffs.
So begins a story that unfolds over a week, two continents, and across fifty years, as Elisabeth uncovers stories and lies, she told herself and others.
With new eccentric friends pushing her along the journey, parents and former lovers haunting her every step, dreams filled with ghostly creatures, and temptations along the road pulling her into different directions, Elisabeth faces questions of friendship and forgiveness, guilt and secrets, truth, and love.
In the end, Elisabeth will have to choose between going back to a life others would kill for or heading out into a wild, uncertain future.
I just received a very friendly E-mail telling me that I was neither winner nor runner-up in that competition. But as I wrote: I am not in a hurry. I am currently working on my 7th draft. And on that one sentence saying everything about my novel to make an agent curious.
please send your comments to This email address is being protected from spambots. You need JavaScript enabled to view it.