Butterscotch Pines - Palm Springs, CA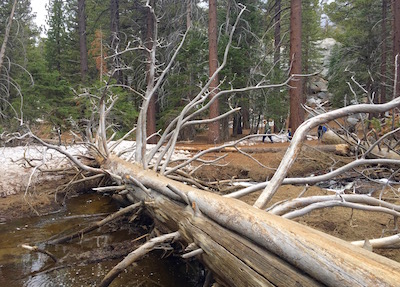 We walk between the smell of butterscotch from pines. Snow swirls melt on my hair. A creek makes soft turns between red barked giants. Our steps are soft on paths moist from leaves and needles. In the distance water crashes over granite slabs into the gorge.
The light is soft beneath heavy clouds. The air is thin and cold. Each breath is precious. A tree with naked arms becomes a bridge across the flood. Silver, it pierces the sky. We cross, we smile, we laugh, take pictures. An adventure off the beaten path. My jacket is bright blue and warm. You carry our backpack and help me down the graveled rocks.
You turn a tree trunk into our picknick table with a water view. I take shelter next to you. We make pretzel-salami sandwiches, share our water, watch our fellow hikers. Some slide on flip flops down the path. One girl in a pink sweater with a pony tail skips away from her family. One student says that she feels sick and wants to leave right now. "We just arrived," another student says. "What have you seen? Nothing!" A young couple reads the sign that says we are among mountain lions, Steller's jays and bighorn sheep.
You hold me in your arms as if it were the most natural thing to do. As if you would never leave me. As if you would never let me go. As if I were the one for you.
please send your comments to This email address is being protected from spambots. You need JavaScript enabled to view it.