Barefoot Under Waterfalls - Santa Monica Mountains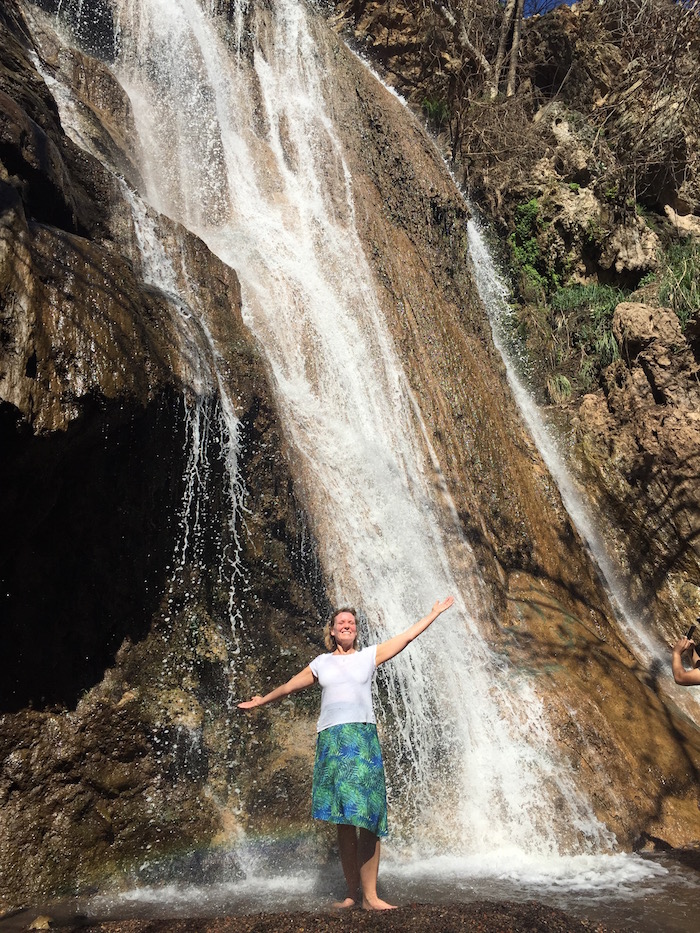 Our hike is mellow after an asphalt climb between mansions, wrought iron gates and garden landscapes. We walk through meadows of fresh grass towards a valley of dead trees, leaves the color of rust and a path of mud mixed with ash. Out of scorched hillsides grow fields of phospherous green, wild mustard yellow, lupine purple and California poppy orange. We cross a creek. Its whisper will be our companion and lead us to the waterfall.
The sky is this day's canvas. Cornflower blue. Not one cloud. Coal limbs from old trees stretch towards it, surviving witnesses of last November's forest fires. I touch a bark-less carbon skin. It's soft like driftwood and leaves no trace inside my hand.
Before the fires, thorny bushes scratched my calves along this hike. Sage and fern grew everywhere. Shade from trees used to keep the earth moist and slippery.
Today, we walk on sun baked paths.
In the distance up high we see a river falling over ocher rocks. We used to listen for the sound of water falling without seeing it. Thick foliage used to block our view.
I help a Spanish speaking lady with a cane. I take the paper bag she carries in her left hand. It is filled to the top with food and soda cans. She told her grandkids they could run ahead. We talk in broken languages, a mix of Spanish, English, German, nods and smiles.
When we arrive at the fall, she drops her cane and jacket. She leaves me behind without a word. She stumbles towards the water. She leans into the stream. She caresses the wall behind it. She starts to rock, her body wet from the hair down to her shoes.
Next to her, teenagers pose for pictures. Water barely touches them before they jump back to safety. They giggle, scream and laugh.
I take off my shoes, walk across jagged pebbles into the pool. Heavy drops roll off my head onto my shoulders. One second and my face is wet. My T-shirt clings to my body. My skirt is heavy. I stretch my arms forward, towards the rock. Tentacles of moss used to cover it, soften it, catch diamond droplets from their fall.
Today, I touch solid slab. Hard and rough.
"You're going to be all soaked!" my husband laughs and grabs his phone to take a picture.
Sun filters through black tree limb sculptures. Light warms my face. In cracks between tree branches, nests of green baby leaves are growing. Teenagers' screams melt into the roar of water from above.
A small rock under my left foot is an unnecessary reminder that not everything in life is smooth and refreshing. I have tax files to finish. Bills to pay. More extreme weather and another shooting in the news. The big distance between me and my parents. Their illnesses. My helplessness.
But: this is here and now. One precious moment in the one precious life I have.
Yes, I am almost six foot tall and menopausal heavy. I have extra curves above my hips. My feet have calluses. My favorite hairstyle is air-dried and unkempt. My mascara melts into sun block lotion and now into the waterfall.
But: in this moment I am light and beautiful. And very happy.
Today, I'm barefoot under waterfalls.
I stretch my arms towards the sky some more. A smile expands through my whole body. There is a rainbow in the mist.
I look towards my husband. He puts the phone up to his eyes. I see a big grin on his face.
"I got a good one," he says, then extends his hand and helps me return into the world.
please send your comments to This email address is being protected from spambots. You need JavaScript enabled to view it.