Time Zones, Life Zones - LA-Germany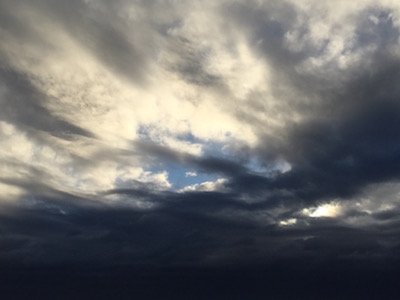 I am not here yet. I am not there anymore.
My body is suspended between time zones. My mind adjusts to life zones. My spirit crosses galaxies.
I breathe presence. I swallow past.
I taste a hint of future in the finish on my tongue.
Rain glides off leaves outside my window.
Rain is a lullaby. Rain is a symphony of silver notes. Rain is my familiar melody. Rain takes me back to muddy paths. Rain makes me feel thunderstorms inside of me. Rain fills my desert heart.
Rain is my mother.
Rain tells me to stay warm and safe inside. Rain tells me not to waste my time just being busy. Rain tells me: "Come back home to what you know."
I long for stillness. But I leave.
I follow anything but lullabies.
I need to move. I need to dance. In rain and sun, I need to fly.
I need to spread my arms towards the sky.
I need to claim my space between those time zones, life zones, galaxies.
I'm here. I'm there.
I'm home inside of me.
please send your comments to This email address is being protected from spambots. You need JavaScript enabled to view it.