Love at First Sight - How We Met Our Covid-Puppy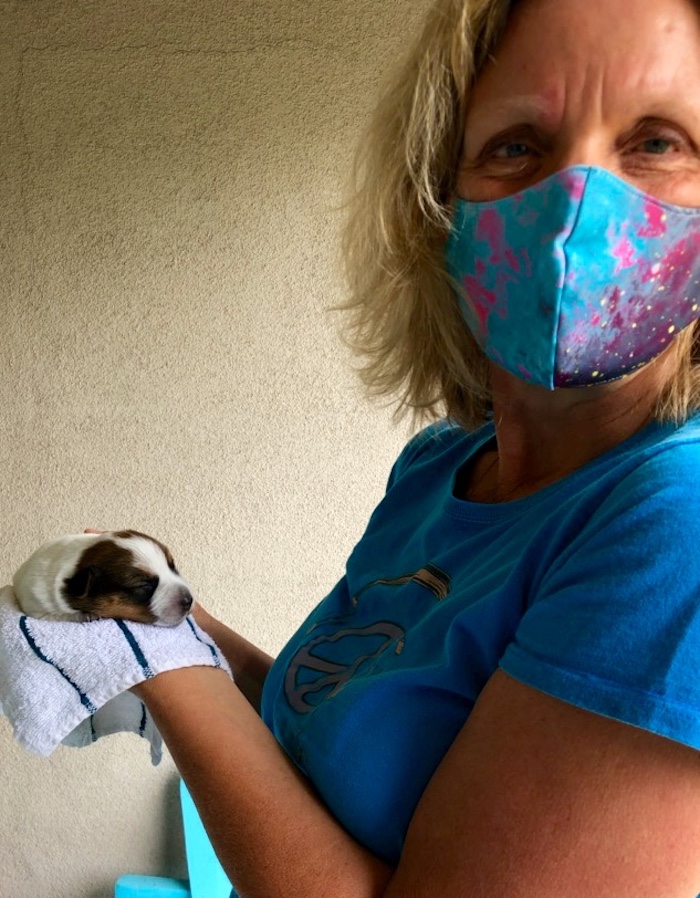 It was May 2020, shortly before my 56th birthday, and two months into the Covid-Pandemic. Online, we saw a family looking for homes for their litter of eight Australian-Cattle-Dog-Collie mixes. On a rare rainy day in Southern California, we drove one hour East to a small home where, on the front porch, the owner put a cardboard box in front of us. Inside soft puppy bodies huddled together, unbearably cute faces with closed eyes and short snouts next to nervously wagging tiny tails. I picked up one of them, held her in my palm, then close to my chest, which she sniffed and explored with her tiny paw. "That's it. It's her," I said, and my husband agreed.
The owner took a piece of paper. "She's the girl with the single dot on her butt," she said, wrote down 'S.D.B' on a piece of paper next to our names, and pointed at a sister with two black spots on her behind. "So we do not mix them up." During the following weeks, she sent us videos of S.D.B. tottering between towels, chasing a squeaking slice of pizza, and walking all over her siblings. "Es-De-Be," we said, testing the sound of those letters in our mouths.
"Don't give her a name before you have had her for a while. She will reveal her character and with it what she wants you to call her," more experienced dog owners suggested. Many names for her came to us once she was in our home—Butter, Cinnamon, Caramella, Frankenstein, to name only a few. But it was too late. She already had the perfect name when we picked her up. Es-De-Be turned into Esty. That's what we call her and the name she listens to. Well, listens to 90 percent of the time.
please send your comments to This email address is being protected from spambots. You need JavaScript enabled to view it.