Award for A Story from the Heart - Los Angeles, CA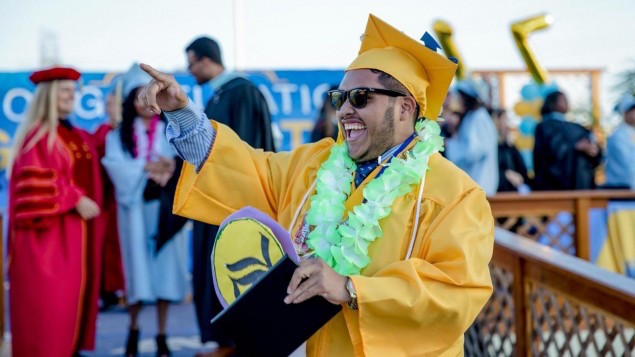 The words in the jury's comment that made me most happy were "with lots of heart".
I had hoped to show heart in the radio story that I wrote about high school students: children of immigrants who graduated five months after Donald Trump's inauguration. I followed them from June to Christmas of 2017. We had a text message group. The senior from Honduras created it with a title that summed up their spirits perfectly: "cool kidz".
I tasted birria for the first time in one of their homes, with a spoon directly from a big pot on the stove. I sat between stacks of tires in a car shop where another one was looking for a job, and on a wooden bench in the back of a court room listening to proceedings that determined her and her sibling's destinies. I was sweating on a desert campus as I watched how the third one started to fulfill her dreams.
They told me about hopes, goals and aspirations. They also talked about a shadow hovering over them because of rhetoric and actions from the White House against immigrants.
The 'Dreamer' described fears for herself and her mother without papers and sent me pictures from protests in Downtown LA. The California born shared moments of anguish with me, when his parents did not come home from work as expected. The one with the best grades held back tears when she told me how her godfather was deported shortly after her graduation and now lived in Tijuana, in a " windowless concrete box".
These real cool kidz not only opened up their lives to me. They opened up their hearts. I am forever grateful, and it is a big part of why the jury's words made me so happy. Santiago, Denali, Mildre, I thank you all for that. This award belongs to you.
Here is the full text of the judges' comments at the 61st SoCal journalism awards 2019 in the category of foreign correspondents/feature:
"In an extremely competitive category, this entry stood out. Months of reporting are distilled and woven into a tight narrative with lots of heart. There's a keen eye for the small details that illuminate larger stories. It's a story about Dreamers, but it also taps into universal themes of coming-of-age and survival. Excellent work."
And here is the story:
{http://soundcloud.com/soundslikerstin/trump-and-the-dreamers-dlf}
please send your comments to This email address is being protected from spambots. You need JavaScript enabled to view it.