Whose Streets? Downtown Los Angeles, CA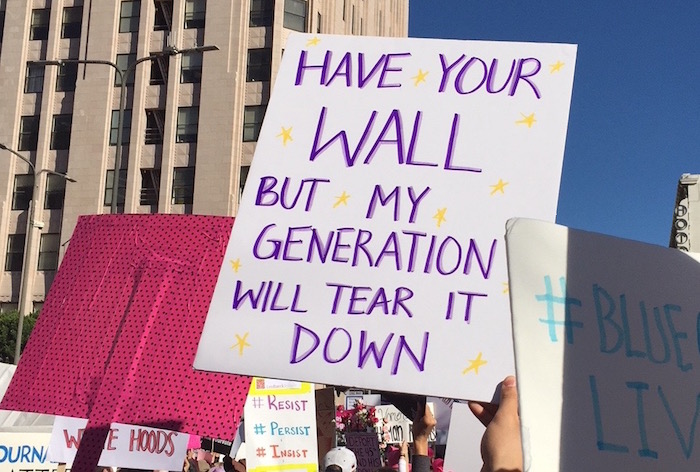 {http://soundcloud.com/soundslikerstin/whose-streets-our-streets}
Standing among thousands of protesters at the Women's March in Downtown LA, I was most happy about seeing so many young faces around me. Young women were climbing fences, bus shelters and flower pots to make their signs seen and voices heard. Their shouts are loud. Their signs are funny and on point. OK, some were gross - like the close up of
Donald Trump's mouth with a 'Shithole' tagline. I was surprised how many chose to draw vaginas on their signs and that one young man was able to write more than 20 names of politicians he wants to be ousted on a poster - without looking at any list.
I loved the young poet reciting her lines from stage about all the girls she wants to stand up for. I loved the grey haired women locking arms with daughters and granddaughters. I loved the artists interpreting the current state of the world in colors, in black and white, aggressively aswell as full of kindness. I loved all the smiles around me.
Gina Belafonte, the daughter of civil rights icon Harry Belafonte and trailblazing activist in her own right, told us the official count of people marching in Los Angeles: 400 000. That so many of them were young makes me really optimistic about the future of this country.
Whose Streets? Our streets!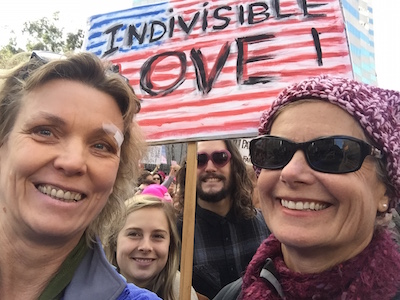 please send your comments to This email address is being protected from spambots. You need JavaScript enabled to view it.