"The Not So Pretty Truth" - Living on Skid Row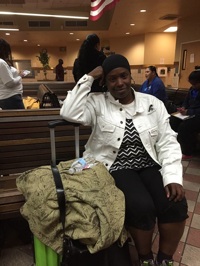 {http://soundcloud.com/soundslikerstin/the-not-so-pretty-truth-living}
The shooting of a homless man on Skid Row in Los Angeles, the disturbing sounds and pictures reminded me of the few hours I spent recording during the recent homeless count. Walking from the parking lot to registration I saw a place in the middle of the city I live in that might as well be on a different planet. It was not so much the tents, the dirt and the smell of drugs that disturbed me. It was bundles of clothes on the sidewalk that made me wonder whether a human being is somewhere in there, a man trying to sell socks out of a torn plastic bag, the shouts and screams, the lost, desparate and resigned looks on many faces.
The group I tagged along with for reporting started with a more in depth survey of a woman waiting in a shelter's chapel area. She looked friendly, her white jeans jacket clean, all her belongings packed into a tiny suitcase on wheels. Most of all she looked tired. She said she was 49 years old, originally from New York and that she had lived on and off the streets for 20 years. She is three classes short of a college degree but cannot continue her education without finding work and housing. Because staying on Skid Row literally makes her sick she sleeps a few blocks away on a bus bench. She was kicked out of Union Station and the library. The woman's reward for answering the questions: a 5 Dollar gift certificate for a fast food restaurant.
I can't forget how thankful she was and her last words: "I hope this makes a difference."
I really wish it would.
Please send your comments to This email address is being protected from spambots. You need JavaScript enabled to view it.