Scent of East Berlin in Los Angeles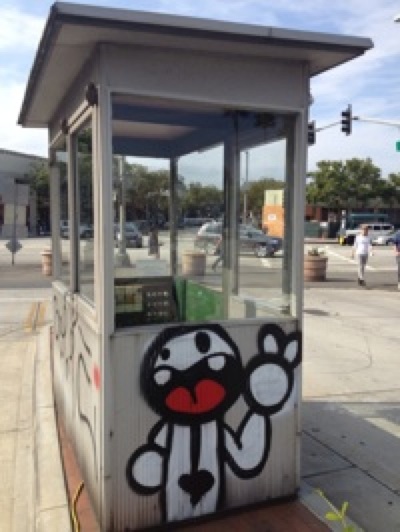 "We were working in a ghost town"
{http://soundcloud.com/soundslikerstin/der-duft-der-ddr-scent-of-gdr}
25 years ago, November 9th 1989 the Berlin Wall came down after a peaceful revolution in East Germany. Shortly after, I started working as reporter in Berlin.
You can't imagine how surprised I was to smell the very distinct scent of East Germany again - in Los Angeles.
Within one day two interviews brought back memories of stale cleaning soap mixed with dust, the reek of burning coal and a deep sense of oppression.
The first interview taking me back 25 years in time was with artist Christof Zwiener. Christof brought a guard house from Berlin to Los Angeles. It is hosting different installations on just two square meters at several locations in Los Angeles. Under the scorching sun of California the scent of GDR penetrates every crack and wedge in the aluminum shack. Christof explained: the house had been standing in Berlin unopened for more than 11 years. It will find it's final spot at the new Culver City location of the Wende Museum in their sculpture garden.
The second interview reminding me of this typical scent of burocracy, oppression and suppressed individuality was with composer, conductor and arranger Chris Walden from Hamburg, Germany. Being hugely successful in the United States, having just released his new CD 'Full On!' with his own Big Band and working with stars like Josh Groban, Stevie Wonder and Neil Young he remembered a time working with the RIAS Big Band.
The group used to record and practice at the studios of RIAS - Rundfunk in The American Sector - in West Berlin. After German Reunification RIAS was merged with former radio stations from East Berlin. The Big Band moved to a studio in the East.
As Chris recounts, empty offices, broken windows and a strong scent of GDR gave their sessions a quaint, spooky and surreal touch.
[Link to story for Deutschlandradio]
The translation of his quote: The RIAS Big Band was relocated to the old East Berlin studio grounds at Nalepa Straße in Karlshorst and there was an old musty studio for orchestras which still had the scent of these old GDR detergents. A big part of these buildings was built during the Nazi regime with Albert Speer foyer etc. During times of the GDR they added boxy architecture. It was a funny mix of Albert Speer asthetics and GDR aesthetics. It was very quaint, especially because we were the only ones working on this huge studio compound which was 95 per cent empty and more or less a ghost town. Huge office buildings covered in cob webs and with broken windows. Nobody was working there anymore. Every morning we traveled to this ghost town to record."
please send your comments to This email address is being protected from spambots. You need JavaScript enabled to view it.