"What does the world I want to create sound like?"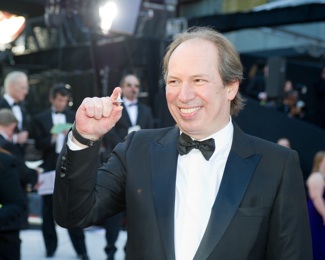 Hans Zimmer still pinches himself every day realizing that a "kid from Germany that didn't do any good in school suddenly is a composer in Hollywood". I met Zimmer in his windowless studio in Santa Monica, where he sat down in jeans and T-Shirt between red plush chairs, computer monitors, a piano and several electric guitars to talk with me about creating the Oscar-nominated Inception score, his life in Hollywood, longing for Europe and his aversion for award ceremonies.
Zimmer admits he doesn't care much for "putting on a jacket and going to an event with tons of people dressed up." He would rather write music, because he "came to Hollywood not to become rich or to get Oscars and Grammy's but to compose, play music with other musicians and work with filmmakers." Zimmer arrived in Hollywood from Frankfurt, Germany via the UK where was successful as band musician, composer and producer. Few people are aware that he was part of the Buggles Hit "Video Killed the Radio Star," the first video ever played on MTV.
His first steps in Hollywood led to immediate success: Hans Zimmer was hired by director Barry Levinson to write the music for Rain Man. That score earned him his first Oscar nomination in 1988, at the young age of 31!!!! Six years later Zimmer held the coveted golden statuette in his hand - honored for his "The Lion King" score.
By now the composer has won several awards, among them three Grammy's, two Golden Globes and a Star on the Walk of Fame. Filmmakers love to work with the German because of his unique ability to give movies of very different genres an extra dimension with his mix of acoustic instruments, synthesizer and big orchestra. Hans Zimmer wrote music for more than 100 movies, among them Mission Impossible, Gladiator, The Da Vinci Code, Thelma and Louise, Black Hawk Down, The Thin Red Line, Pirates of the Caribbean, The Dark Knight and Inception. In more than twenty years of work in Hollywood he learned not to start writing on that intimidating white page too early. He first tries to imagine what kind of world he and the director want to create and what this world sounds like "I try to sit on my hands until I know what I am supposed to play. Otherwise I would always play the same stuff. Because fingers also have memory and always want to play the same stuff." At the moment Hans Zimmer imagines several sequel-worlds, those for the Pirates of the Caribbean, Kung Fu Panda, Sherlock Holmes und Batman. Sunday he will have to leave those fantasy-universes, put on a Jacket and try to enjoy the reality of a kid from Germany who has been nominated for one of the greatest awards for filmmakers.
listen to Oscar nominated composer Hanz Zimmer at Hans-Zimmer.com
please send comments to This email address is being protected from spambots. You need JavaScript enabled to view it.