Bordercrossings and Modern Travel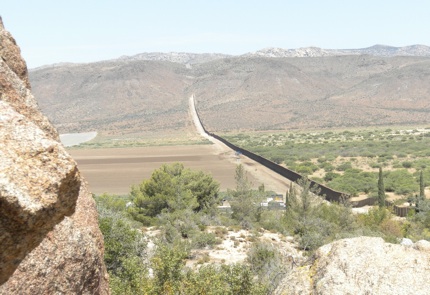 The preparations for the visit of my sister and her two teenage sons are in high gear. We wonder whether we have enough space, sheets and bicycles, we complain about unreasonable ticket-prices for Disneyland and we consider whether it is worth 25 Euro each for a seat with more leg room on the 14-hour flight from Germany to Los Angeles.
Talking to an undocumented Mexican fabric-trader in Los Angeles put all our complaining about dreadful conditions of modern travels into perspective. Carlos deals with very different and much more grueling circumstances when he goes to visit his parents in Mexico once a year. Coming back to his home in Los Angeles he crosses miles and miles of unforgiving desert. "You have to stay very calm, if desperation enters your heart, you will die!" the 37-year-old Mexican explained to me. "You always have to look left and right and walk, walk, walk, walk. You can't run! Be patient. You rest during the day and walk at night. It takes four days and four nights." Carlos makes this journey alone. His wife and kids are afraid that one day he will not make it back to their small house in South Los Angeles, where seven people share two bedrooms and the income Carlos brings home selling fabric in downtown Los Angeles. "I want to make a better life for my family. I want my kids to get a good education and good jobs." The Mexican repeats what so many immigrants state as their reason to come to the United States.

Looking at his journey across the border I am very thankful for being able to have my family visit whenever they want to come --even if we don't have the budget for a family trip to Disneyland. I am pretty sure we will have everything we need to make this visit wonderful once they have unfolded their tall German frames from between the dreadfully close seats on the plane ride here.