Demons - Why Soldiers Return to War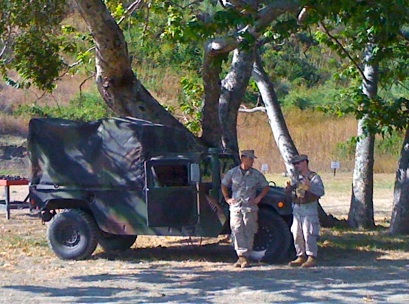 "Why do you want to go back?" was my question to various members of the US-military who continue to serve as the week marking the the tenth anniversary of the war in Afghanistan approaches.
Navy officer Elizabeth Thompson was stationed on an aircraft carrier in the Persian Gulf two times and early this year asked to be deployed into a combat zone in Afghanistan. She is motivated by the struggle of Afghan women for more rights and better education and wants to help make their dreams come true. Elizabeth spends as much time as possible with her boyfriend and training for combat before her deployment date at the end of the year. "I could go crazy thinking about what might happen but that is just a waste o time."
Jabbar Magruder was deployed in Iraq two times as a helicopter mechanic. He returned to the United States frustrated by inadequate equipment, disillusioned by politicians' lies and consequently joined the organization Iraq-Veterans Against the War. Jabbar started looking for work that would give him meaningful responsibilities and the 31 year old soon discovered that values and strengths he learned in war were hard to translate to civilian life. Three years after returning from war he realized "I miss my uniform, the camaraderie and the feeling that what I am doing is important". This is how the helicopter mechanic explained his decision to re-enlist with the Army Reserve in 2010 hoping to be deployed to Afghanistan soon.
Alan Cummings is a corps man with the Navy. Even though he is just 27 years old he has already been deployed five times. He left college to join the military after one of his friends from school was killed in Iraq. "Being 19 you still believe that you can really make a difference and save lives" he recounts. His beliefs about war have changed. "When you mature you realize that this is nothing you want to do. When your time comes you do the best you can to help. But you should never wish to be in a situation like this." Alan has seen a lot taking care of wounded and dying Marines in combat. Still for him as for many fellow members of the military the hardest part of being a soldier is coming back to civilian life. "You have to cage your demons that have been out for eight months. And tell them: "I don't need you right now, go back in. Everything is alright."