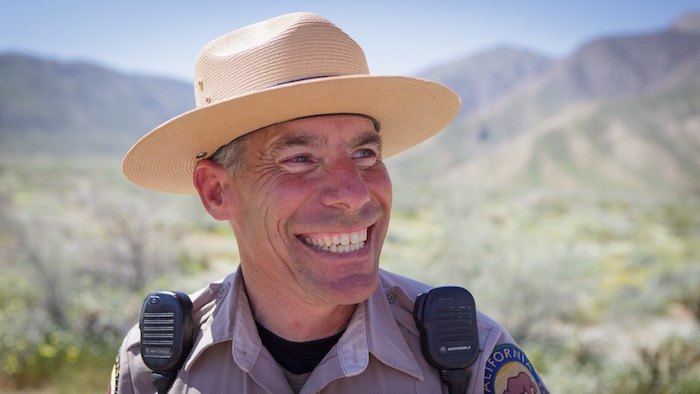 "You can fall in love with the desert which happened with me the first time I topped the rise of that hill. The view just goes on forever."
Steve Bier, March 17, 2017 Borrego Springs
The first thing I saw was Steve Bier's wide, friendly smile under his big-rimmed ranger's hat. He stepped out of his truck, handing me a water bottle before shaking my hand. I had come to Borrego Springs to report about the record wildflower bloom for German public radio. I had not arranged for an interview with a ranger. Steve volunteered to give me the information I needed. I am sure thousands of tasks were waiting for him as visitors poured into Anza Borrego desert from all parts of the world. But Steve took his time, telling us the most wonderful stories about flowers, creatures, pollination and climate change while in between making sure an ambulance got to a stranded and dehydrated hiker in the nearby mountains.
While my friend and photographer Dirk Rohrbach took pictures, Steve talked to me about his love for the desert and why a city guy like him ended up in a remote place like this.